…De kogel is door de bak! Of nee, wacht, eh…
Nou ja. De strekking is duidelijk: de verhoogde moestuinbak ging eruit! Nadat ik me al weken zat te ergeren was de beslissing begin deze week ineens genomen.
Het begon vorig jaar met het lezen van Alys Fowlers 'The Edible Garden'. Wauw, wat een eye-opener! Zo'n gezellig zooitje met groenten, eenjarigen en bloeiende vaste planten door elkaar paste beter bij mij dan een rechte moestuinbak met nette vierkantjes. Ik had een leuk eerste moestuinjaar met mijn bak, maar vanaf het moment dat ik dat boek had gelezen wist ik wat ik eígenlijk wilde.
Probleem is/was dat ik een chronische ziekte heb waardoor mijn energielevel totaal onvoorspelbaar is. De ene dag kan ik 'gewoon' de hele dag werken, huishouden doen, tuinieren en dan 's avonds nog wat met iemand drinken; de andere dag lig ik in bed en kan ik niet eens zelf naar de supermarkt. Omdat een 'edible garden' nogal wat onderhoud vraagt, is het dus de vraag of dit een triomftocht of een tranendal wordt. Maar goed, mijn redenering is dat ik dan in ieder geval nú heel veel plezier heb van mijn minikoninkrijkje. Het is gewoon leuk om het een keer te proberen en precies zo te maken als ik wil. Wordt het niets, dan heb ik ook zo weer een nieuwe bak gebouwd (op een goede dag dan hè
). Bovendien hebben we het hier niet over een moestuin van 200 m2 maar over een tuinborder van 10 m2.
Afgelopen maandag, een waarlijk Herculische dag in termen van energie, ging ik aan de slag!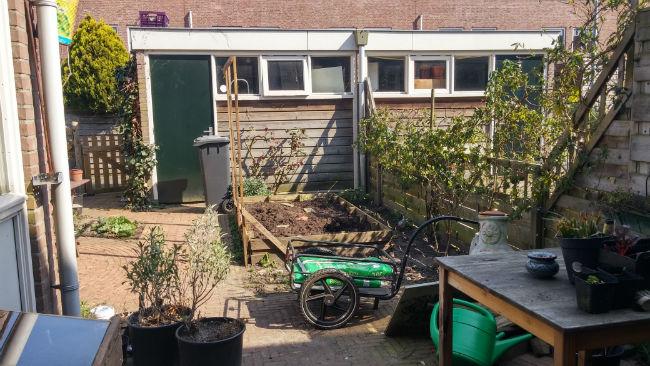 Beginsituatie: bak met bonenrek (op de voorgrond mijn fietskar).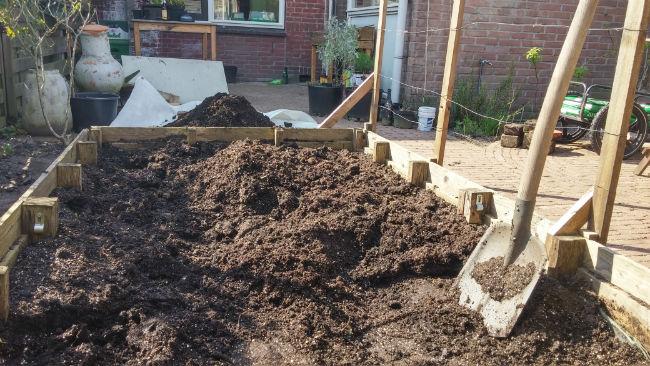 Zeiltje voor de bak en scheppen maar!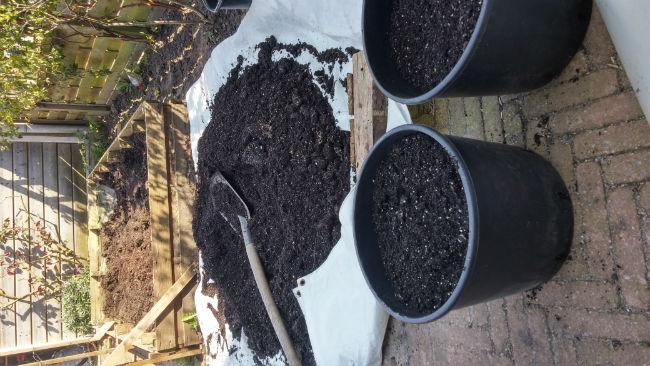 En scheppen, en scheppen…en nog meer scheppen…tjonge, wat zit er dan eigenlijk nog veel grond in zo'n bak…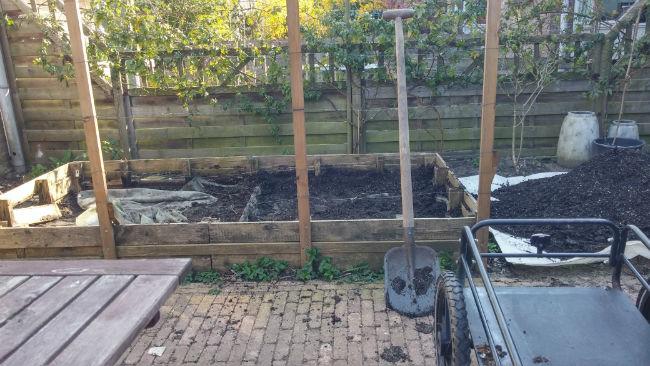 Nog even volhouden, bijna klaar…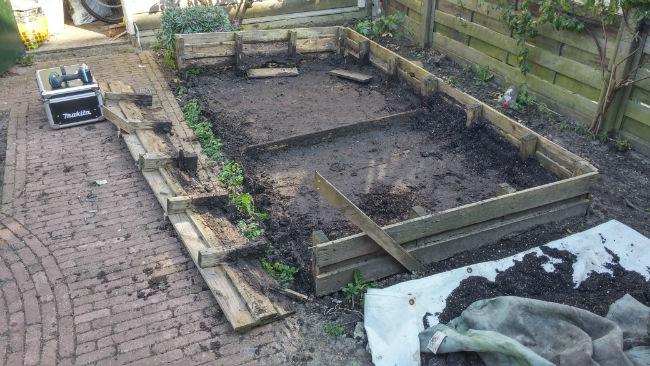 En leeg! Daar is de trusty Makita al, om de boel uit elkaar te slopen.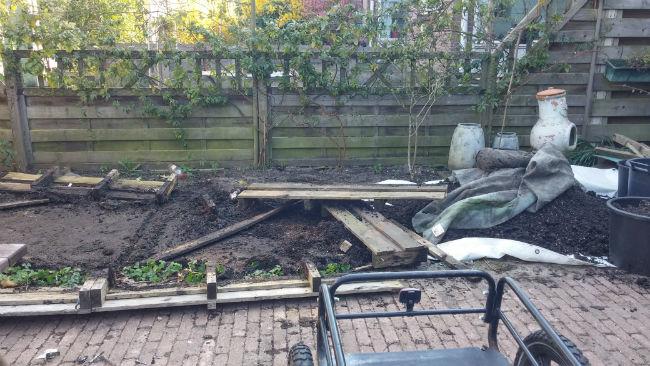 Wwrraaaaahhh slopen!!
Chaos, dood en destructie!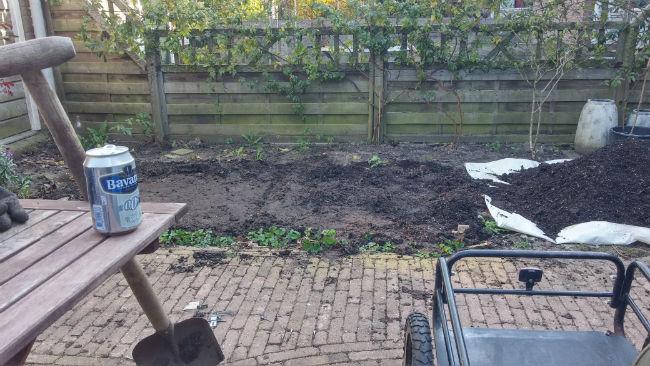 Klaar! En dan nu een (alcoholvrij) biertje.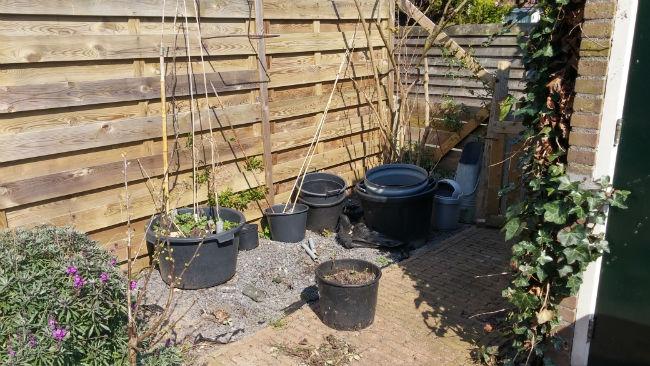 Ja ja, alcoholvrij, want in de andere border moest ook nog flink wat gebeuren. Dit is de border op het zuiden, waar ik mijn vruchtgewassen teel. Om verschillende redenen moet dat in bakken: er ligt nog een dikke laag grind uit de 'oude' (vóór onze tijd) tuin die ik lastig af kan voeren, ik heb maar heel weinig plek én de grond moet natuurlijk wel elk jaar vernieuwd worden. Het plan was dus om de MM-mix uit de bak – en ik moet het Jelle nageven, die ziet er nog fantastisch uit, zeker met de nieuwe compost erbij! – over de emmers te verdelen. Ik kan dan een nateelt doen van bladgewassen of ze 's winters inzaaien met een groenbemester, en dan in het voorjaar alles weer door elkaar scheppen en mengen met nieuwe compost. Ik hoop dat dat goed gaat; het is in ieder geval de enige manier dat ik jaar in, jaar uit nachtschades kan telen (ergens anders in de tuin krijgen ze niet genoeg zon, en ik heb geen geld voor elk jaar zoveel nieuwe potgrond).
Op de foto boven zie je de beginsituatie: een zooitje waar ik sinds het begin van de winter niets meer aan gedaan had.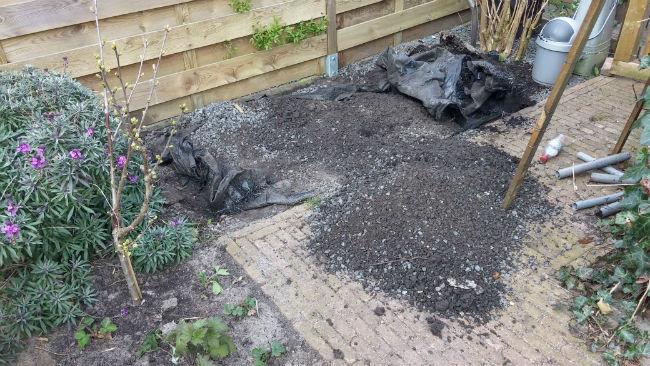 Stap 1: grind eruit, worteldoek eruit (blegh worteldoek!).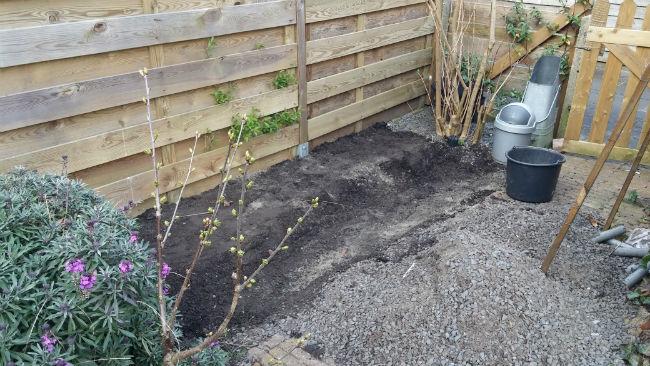 Stap 2: maken van verschillende 'plateaus' zodat alle emmers genoeg zon krijgen.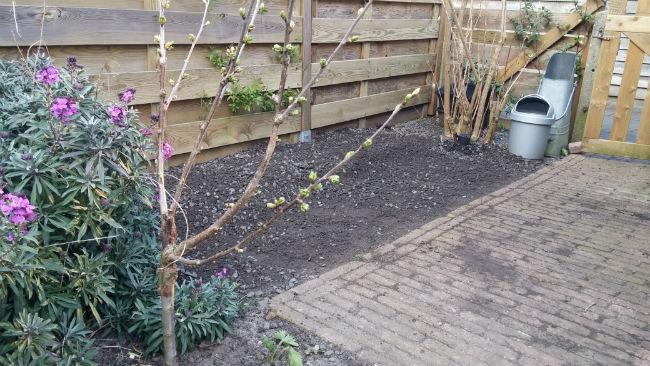 Stap 3: grind er weer in…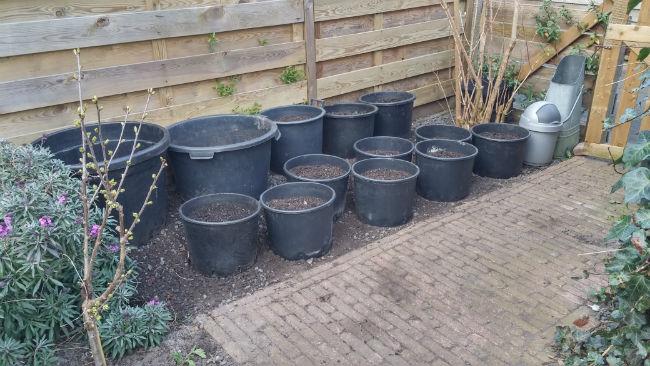 …en stap 4: emmers op hun plek zetten. Nu hoef ik ze alleen nog wat netter 'uit te lijnen', en dan kan ik gaan planten (of zaaien, misschien doe ik nog een snel voorteeltje van mosterdblad en/of radijs).
Tot slot hieronder mijn droomplan:
Een visie op hoe het, zeg maar, als alle sterren goed staan en er vanaf nu níets meer fout gaat, kan worden.
…
Tot volgende keer!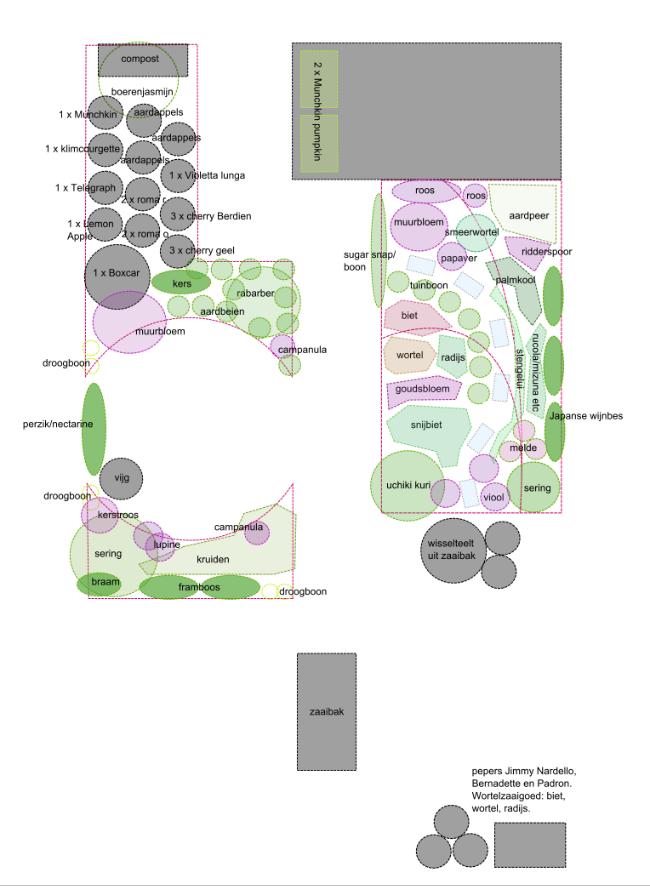 /** * Single post footer view * * @package Customizr * @since Customizr 3.0 */ function czr_fn_post_footer() { //check conditional tags : we want to show single post or single custom post types if ( ! $this -> czr_fn_single_post_display_controller() || ! apply_filters( 'tc_show_single_post_footer', true ) ) return; //@todo check if some conditions below not redundant? if ( ! is_singular() || ! get_the_author_meta( 'description' ) || ! apply_filters( 'tc_show_author_metas_in_post', true ) || ! esc_attr( CZR_utils::$inst->czr_fn_opt( 'tc_show_author_info' ) ) ) return; $html = sprintf('', '